Pioneers in creating and developing globally renowned medical simulation equipment.
Here at SIMBODIES® we have over 15 years experience in developing and tailoring globally renowned simulation equipment, helping to create the most realistic training scenarios possible. Highly immersive training environments ensure students and trainees can learn high-risk medical procedures, in a low-risk, secure environment.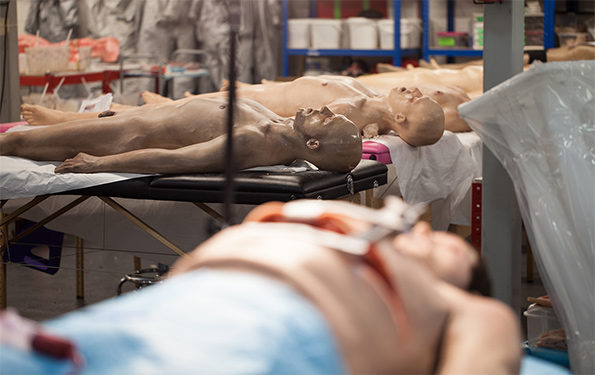 About SIMBODIES®
At SIMBODIES, we believe that the best medical training starts with simulation. Here at SIMBODIES, we specialise in developing and creating globally renowned simulation and moulage equipment. Using the expert knowledge of some of the worlds leading clinical experts alongside the highest quality materials, each piece of simulation equipment replicates highly realistic human casualties and their injuries, generating the most realistic scenarios for students and trainees. Our products have gained us international recognition, making us a world leader in the advancement and capability of simulation equipment worldwide.
Why SIMBODIES®?
Setting the Standard
Since our establishment, SIMBODIES has been at the forefront of the medical simulation industry, introducing simulation training into an array of professions. Every product developed in our warehouse here at SIMBODIES strives for perfection in replicating the human anatomy, meaning our products are unlike any other in the medical simulation industry. As a result, SIMBODIES has successfully become an internationally recognised brand, continuously providing customers with the best training resources possible.
Clinical Confidence / Precision
We believe that the only way to improve clinical confidence is through experience. The team here at SIMBODIES have worked alongside some of the worlds leading clinical experts to ensure that our products can be as close to a genuine human patient as possible. As a result, you can be assured that the equipment you are using to train your staff, whichever sector they belong to, will allow them to practice on a replica which is as close as possible to the human body.
Manufacturing Excellence
Each item created by SIMBODIES is hand-produced from the very start of their production, to the moment they leave our warehouse. Made using the highest quality prosthetic grade silicones, simulating the look and feel of genuine human skin, our production team uses a combination of unique and industry recognised techniques to create our simulation products. We pride ourselves in paying outstanding attention to detail, ensuring that each human feature necessary is mirrored by your piece of simulation training equipment.
Quality Assured Manufacturing that You Can Trust
At SIMBODIES, all of our items come with our SIMBODIES Diamond Standard Guarantee, meaning that we are truly confident that you will be satisfied with your SIMBODIES product, and that you will agree that your product is an exact imitation of the human anatomy you are needing to replicate. Each product also has a 12 month guarantee, meaning that, should the case be that your SIMBODIES product does not meet the expected standard, please contact us to amend any issues.
SIMBODIES Limited Warranty
Subject to these terms, SIMBODIES Limited warrants to the original purchaser of new SIMBODIES products only, that SIMBODIES and related products shall be of a high quality and free from defects in design, materials or workmanship under normal use and proper maintenance for one (1) year from the date of original purchase.  Provided that if an expiration date is indicated on disposable items, the warranty period shall be the date of expiration (collectively "Warranty Period").
This warranty includes repairs due to manufacturing defects to the outer skin (i.e. Split seams). This warranty shall not be effective if the product has been subject to physical abuse, misuse, abnormal use, use not consistent with SIMBODIES published directions, fraud, tampering, unusual physical stress, negligence or accidents.
To obtain warranty service:
Give written notice to SIMBODIES Limited detailing the defect, and request a Return Material Authorisation (RMA) number.
Return the product, properly repackaged, freight pre-paid to SIMBODIES Limited. The valid RMA number must be displayed on the outside of the shipping container.
If the defect is found to be covered by the warranty, a full repair will be undertaken, and the product will be returned free of charge. The initial freight cost will be reimbursed.
If the repair falls outside of the warranty, a quotation for the repair will be provided. This repair will only be undertaken under the authorisation of the customer and an invoice will be raised (including return freight costs) in the usual manner.
NOTWITHSTANDING ANYTHING TO THE CONTRARY IN THIS NOTICE, THE REPAIR OR REPLACEMENT OF THE NONCONFORMING PRODUCTS BY SIMBODIES LTD AS PROVIDED HEREIN UNDER SHALL BE CUSTOMER'S SOLE AND EXCLUSIVE REMEDY FOR A FAILURE OF A PRODUCT TO CONFORM TO THE WARRANTY SET FORTH ABOVE.
Address for Service:
SIMBODIES Limited
Business Unit P1
Alanbrooke Business Park,
Station Road,
Topcliffe,
YO7 3SE
United Kingdom